Join our Movember Fundraiser for Herts Mind Network
Get Your Mo On and Make a Difference!
Herts Mind Network's Movember fundraiser is back! It's time to grow those moustaches, rally your friends and colleagues, and come together for a fantastic cause. We're on a mission to support our local community's mental health, and we need you to help us make it happen.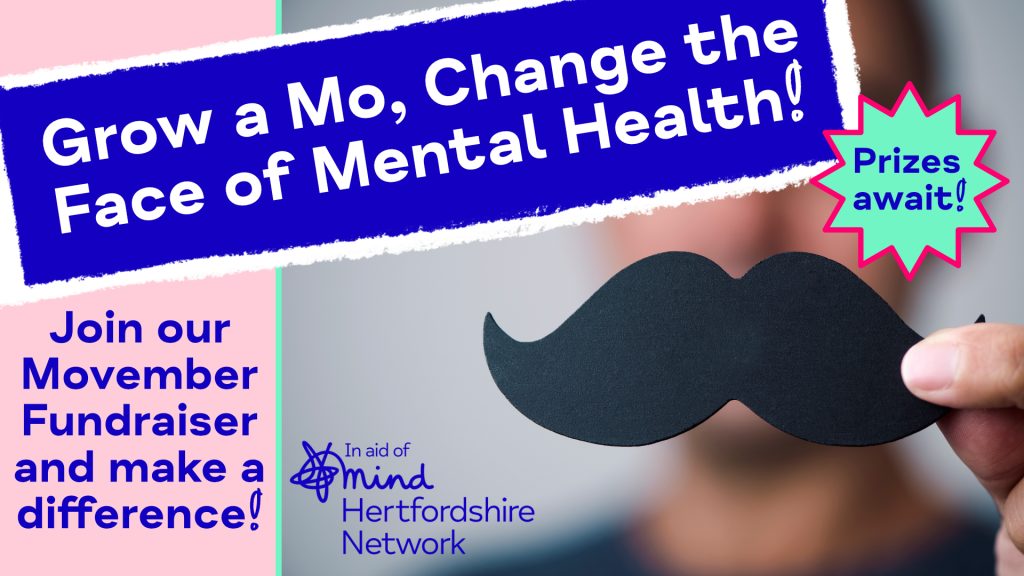 Why Movember?
Movember is not just about growing impressive moustaches; it's about raising awareness and funds for critical men's health issues, including mental health and suicide prevention. Movember's focus on men's mental health strongly aligns with our vision of ensuring that every person in Hertfordshire feels supported with their mental health.
Why Support Herts Mind Network
By participating in our Movember Fundraiser, you'll be supporting a local charity that's making a real difference in our local community. Our services provide essential support to those who need us most in Hertfordshire.
How can you get involved?
Grow Your Mo: Embrace the month of November by growing your moustache with pride.
Start a Team: Rally your friends, family, or colleagues and form a Movember team. Doing it together will help to raise more awareness and more funds, as well as having lots of fun.
Fundraise: Create a fundraising page and encourage your friends, family and colleagues to donate. Every penny helps us provide mental health services to more people in Hertfordshire. You can set up your fundraising page at www.justgiving.com/campaign/movember2023hmn
Get creative: Movember isn't just about the moustaches, it's about getting creative. You could host a themed event, organise a quiz night, or come up with your own fundraising idea.
Prizes Await!
We're offering prizes for:
Top Fundraiser: The individual who raises the most funds will receive special recognition and a fantastic prize.
Most Creative Moustache: Get inventive with your moustache style, and you could win an exciting prize for your creativity.
Make a Local Impact
When you join our Movember Fundraiser, you're making a difference right here in Hertfordshire. Your efforts will help us support those facing mental health challenges in our local community.
To get started, visit our JustGiving Movember Campaign Page and sign up today. www.justgiving.com/campaign/movember2023hmn
For any further information, please get in touch with us at [email protected]