Captain Tom 100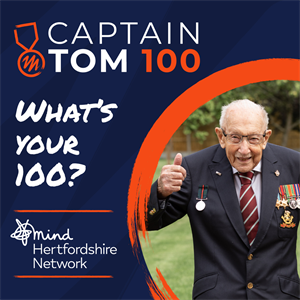 The Covid-19 pandemic has had a catastrophic effect on charities, with the cancellation of thousands of events and the loss of billions in income.  Hertfordshire
Hertfordshire Mind Network is no different, as a local charity supporting people across Hertfordshire we have felt the financial impact of the pandemic, whilst at the same time seeing many more people come to us for support with their mental health during these challenging times. 
The Captain Tom 100 is offering everyone the chance to raise funds for a charity of their choice to help charities such as Hertfordshire Mind Network continue to support vulnerable members of society when they need us most.
Background
Friday 30th April would have been Captain Sir Tom Moore's 101st birthday and the one year anniversary of the conclusion of 100 laps of his garden that raised an incredible £38.9 million for the NHS. 
His family pledged to celebrate his life with an event that everyone could get involved in to celebrate Captain Tom's generosity of spirit, the hope and joy he bought to millions, and his sense of fun. 
That event is the Captain Tom 100.

Captain Tom 100
Everyone – of all ages and abilities are invited to take on a challenge based around the number 100 any time and anywhere over Captain Tom's birthday weekend, starting on Friday 30th April to Monday 3rd May.  That could be walking 100 steps or running 100 metres, scoring 100 goals, baking 100 cakes, climbing 100 stairs, writing a 100 word poem or flipping 100 pancakes, anything at all, inside or outside.
We would love it if you would take on a challenge and raise money for Hertfordshire Mind Network – what will your 100 challenge be?!
How your fundraising can help us
As a local, independant charity we are responsible for raising our own funds. Every pound that you raise on our behalf enables us to continue the vital work we do, to support people's mental health and wellbeing in Hertfordshire.  Now more than ever, our essential mental health services are needed to ensure that everyone across the county has somewhere to turn and we need your support to help us achieve this.

Get involved – Fundraising
If you would like to get involved with the Captain Tom 100 and raise money for Hertfordshire Mind Network then all you need to do is:
1) Come up with your fundraising idea (remember to base it around 100!).
2) Create your own fundraising page by visiting: Captain Tom Fundraising Page
3) Share your 100 on social media using #CaptainTom100
Get involved – Donate
If you would prefer to donate to Hertfordshire Mind Network via the Captain Tom 100 then please visit: Captain Tom HMN Fundraising Page
Any questions? 
Please drop our Community Fundraising Manager an e-mail – [email protected] or give Caroline a call on 07702 894231.
Posted on: 6th January 2021