Our leadership team
Hertfordshire Mind Network employs around 80 members of staff and 100+ volunteers throughout the county. Leading this group is a qualified and experienced team who are responsible for looking after the day-to-day operation of the organisation. These are: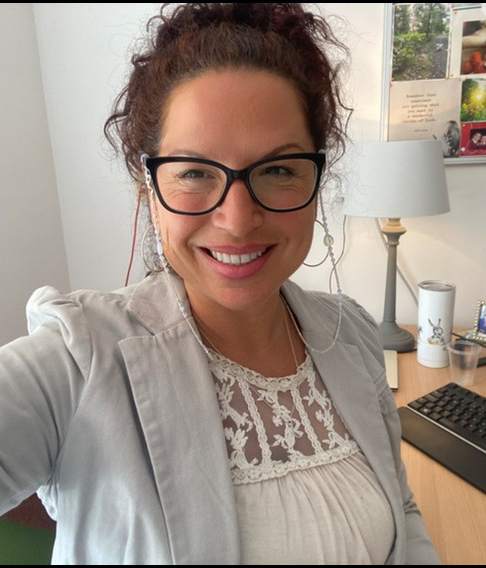 Joanna Marovitch
Chief Executive Officer
Jo originally trained as a BACP Registered Psychodynamic Psychotherapist before moving into the voluntary sector in the arena of Palliative and End of Life Care, as a Health & Social Care Director.  She graduated in Applied Community Studies, and retains an avid interest in EDI & group dynamics.  Jo transformed services in local hospice provision, including design, development & delivery of Counselling, Wellbeing & Outpatient care and is embarking on a MSc in Mental Health Sciences.
Jo is experienced in high quality and innovative growth & sustainability, through building and maintaining successful relationships with commissioners, partner organisations and local providers to identify and create service delivery solutions that work for and are based on the needs of individuals and local communities.  The wellbeing of staff, volunteers and clients is at the heart of Jo's leadership.
In her spare time she enjoys making dream-catchers, walking her two dogs and being with family & friends.
Clare Rennett
Head of Growth & Marketing
Clare joined Hertfordshire Mind Network in 2016. She has 25 years' experience of working in health and social care settings, both in service delivery and service development roles. Clare also holds a BA (Hons) in Social Policy and Administration.
Clare is experienced in developing effective, high quality and innovative business growth, through building and maintaining successful relationships with commissioners, partner organisations and local providers to identify and create service delivery solutions that work for individuals and local communities.
Clare has a particular interest in the design and delivery of creative, person-centred mental health outreach services and crisis provision.
In her spare time she enjoys walking her two sighthounds and volunteering for a local greyhound rescue charity.
Alex Hunter
Head of Peer Support, Training, Therapies & CYP
Alex first joined Hertfordshire Mind Network in 2018 as a peer support worker.
Despite previously having successful careers in both accountancy and teaching, because of her lived experience she had always wanted to move into a career in mental health and highlight the importance of using lived experience to create innovation and change in mental health services.
Because of her experience of being a psychiatric patient she is driven towards breaking down the stigma towards people who have been diagnosed with a mental health illness, challenging the 'them' and 'us' culture in mental health services and working towards services that are developed with the full participation and collaboration of people that use them. Before working at HMN she took on voluntary positions at BEAT and as a Samaritan that enabled her to work towards these goals.
Whilst working at HMN she has studied towards a MSc in Mental Health and Social Inclusion at the University of Hertfordshire and after gaining a distinction has decided to continue combining her working life with an academic life and study towards a PhD in Mental Health at Lancaster University.
As a mum of three, her spare time is focused on spending time with her children and her two dogs, who her children would tell you she talks about more.
Jamie Stone
Head of Complex Needs & Crisis
Jamie joined Mind in Spring 2021 having previously worked as an Advanced Social Work Practitioner within a local authority, as well as an Approved Mental Health Professional. He has 15 years' experience working within the adult social care sector, including eight of which as a registered social worker.
Jamie is committed to the principles of social justice and the rights of people, with a particular interest in social care law and ensuring a strengths and rights-based approach to practice. He believes passionately in a fair and equitable society where people have the right to live the lives they choose and have access to the support they require to do this regardless of need. He has a diverse range of experience including learning disability, older people, mental health, safeguarding adults, social work practice education and also has experience of working alongside emergency services in an integrated service to help reduce admissions to hospital.
Jamie has been recognised for his commitment to social work and its values, being named "Newly Qualified Adult Social Worker of the Year" at The Social Work Awards 2014 and later University of Hertfordshire's Alumnus of the Year 2015 – following his work to support individuals with learning disabilities to exercise their democratic right to vote in partnership with colleagues and the Parliamentary Outreach Service.
In addition to his work he enjoys spending time with his wife, friends, doing DDP Yoga and is an avid fan of Chas n Dave.