Walking football marathon raises vital funds!
On Saturday 18th September Dave Knight held a walking football marathon, inviting people of all ages and abilities to attend and take part.  Dave runs the Bushey based Knight's Way Walking Football Club and held the event to raise vital funds for Hertfordshire Mind Network and Bushey & Oxhey FC.
The day started with children playing a couple of matches and then it was the turn of the adults! Everyone had a great time, Dave's passion for walking football was infectious and for some (including the Hertfordshire Mind Network team!) it was their first experience of walking football.
Walking Football is the perfect leveller for any person who has played before and can't quite play at the level they were previously accustomed to; for any person who would like to try football for the first time and for anyone who would like to meet others and keep fit and well.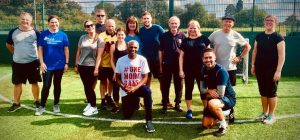 Along with people from the area we were joined by Watford mayor, Peter Taylor and Watford FC legend, Luther Blissett who kindly referred a match for us!  It was a great day – made even better by the beautiful weather and we are very grateful to Dave and everyone that took part.  The event raised an amazing £1,184.18 for Hertfordshire Mind Network and will go towards developing our out of hours crisis provision across the county.
For more information about Knights Way Walking Football please visit: https://www.facebook.com/knightswaywalkingfootball
Posted on: 20th October 2021