With Youth expands to 7 days a week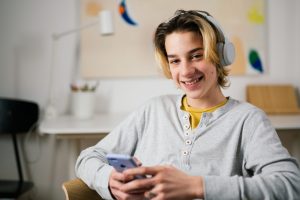 We are delighted to announce that our With Youth service has expanded!
The service is now open 7 days a week, between the hours of 2pm to 10pm (excluding bank holidays). Young people and their parents can now access our services over the weekends, as well as during the week. These services include instant messaging, one to one support, group support, and a CBT based mobile game (Lumi Nova).
This is a welcome extension of a successful service that launched in October 2022, that was initially available from Monday to Friday, 2pm to 10pm. The team have recently recruited additional support workers, allowing them to increase the opening hours to include Saturdays and Sundays.
The additional capacity means that the With Youth team can support even more young people across Hertfordshire with their mental & emotional wellbeing. They have already produced over 70 downloadable resources that can be accessed from the website, and are looking forward offering even more support this year and beyond, including the launch of a "Road to Year 7 group" later this month. 
If you would like to contact the team, please get in touch by emailing [email protected] or you can also call 0208 189 8400.
Posted on: 10th July 2023