Local estate agents Keith Ian walk miles for Herts Mind Network!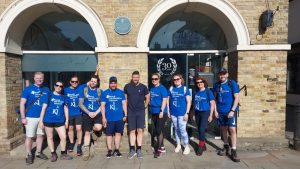 On Sunday 8th May 2022 a team from Keith Ian Estate Agents undertook their first fundraising challenge as part of their charity partnership with Hertfordshire Mind Network and walked 22.2 miles. 
Starting at their iconic office in Ware and finishing at the Queen Elizabeth Olympic Park in Stratford the walk saw the team pass nature reserves and pretty riverside villages as they followed the picturesque Lea Valley. 
Despite sore feet, aching hips and a little bit of sunburn they all successfully completed the challenge and raised an incredible £1,105 in doing so! 
Thank you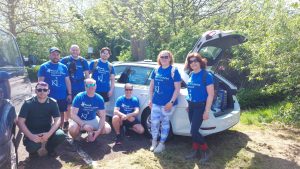 The team at Keith Ian have been fundraising for a number of weeks leading up to the event – promoting the walk through their social media pages, in their three offices based in Ware, Cheshunt and Buntingford and to clients, family and friends.   Along with the donations and words of encouragement they received they also were kindly supported on the day by DC Event Medical who gave up his Sunday free of charge to support them the whole way after completing a night shift for London Ambulance Service!
On behalf of all of us at Keith Ian Estate Agents, we would like to thank all our supporters for their donations and words of encouragement. It was a lot harder than we all expected but when we saw we had smashed our target of £500 and raised over £1000 it made it all worthwhile. Anyone can experience mental health issues, more so since the pandemic, and Hertfordshire Mind Network are such an amazing charity who work tirelessly to support those within our communities. We are so proud to work with them and look forward to what we can achieve in the future.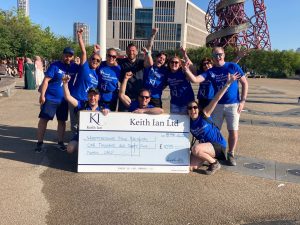 Charity Partnership
The fundraising and awareness partnership with Keith Ian and Hertfordshire Mind Network was launched at the start of 2022. The team at Keith Ian noticed how many of their family, friends and neighbours felt lonely or upset during the pandemic and began to look for ways in which they could help.  They were introduced to us here at Hertfordshire Mind and the partnership began!  Along with fundraising events Keith Ian are also donating £20 from every 'For Sale' and 'Sold' sign they erect.
The money raised by Keith Ian Estate Agents will be going towards investing in our Ware Wellbeing Centre and increasing our reach in Ware and the surrounding areas so that we can continue to provide our vital mental health services to more children, young people and adults.
Caroline McGoohan, Fundraising and Engagement Manager said: 
A huge thank you to all everyone who took part and donated, we have been blown away by the amount raised! We are so grateful to Keith Ian for their continuing support and look forward to seeing their next fundraising challenge!
If you would like further information about Keith Ian Estate Agents please visit their website. For further information about fundraising for Hertfordshire Mind Network please e-mail us at [email protected] or call 07702 894231.
Posted on: 18th May 2022