Would you like to facilitate an exciting new drama project?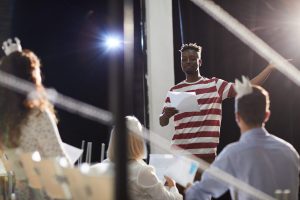 We are currently looking for someone to facilitate a pilot project between Herts Mind Network and Hertfordshire Partnership NHS Foundation Trust using drama as long term support of people with mental illness.
The project is a one year trial of a supportive drama group based at Herts Mind Network in Watford for 6 months, and then at our centre in Ware for 6 months. Planned start is February 2023.
The group will run weekly for 1.5hrs.  Day to be negotiated. The facilitator will be supported by an Expert by Experience (EbE), with supervision being provided remotely each week after the group by a qualified dramatherapist. Expected actual time on the project is 3.5 hours a week, to include session planning with the EbE, supervision, meeting new referrals, record keeping.
The successful facilitator will have a drama degree/training and experience of facilitating drama workshops/groups, along with some experience or understanding of mental health. Alternatively, you may have previous experience of running groups within mental health services and an understanding of drama and its application to improve wellbeing.
Payment:  £80 per session (including travel expenses)
If you would like to find out more, or express your interest in this role, please email Jo Marovitch at [email protected]
Posted on: 21st December 2022